DOCTOR WHO 50TH ANNIVERSARY & THE NEW ZEALAND MINT
Minted UK had a fabulous time at the 50th Anniversary celebrations at ExCeL on the 22nd – 24th November. It was wonderful to meet so many of our customers. Thank you to all of those that came to our stand and introduced yourselves. We have some great images of the show and they will be appearing on this site very soon.
---
50th ANNIVERSARY TARDIS (Less than 40 of the 10,000 issued worldwide are still available – act fast to secure this collector's piece)
As the first coin to be released, the smash-hit one-ounce silver TARDIS coin has nearly sold out. It's a terrific piece, coming in a replica of the TARDIS that when opened makes the famous de-materialising sound. They've been exceedingly well received and are now all but sold out.  It is the iconic piece to commemorate the 50th anniversary of Dr Who.  A collector's item like no other. Hurry if you want one.
Our TARDIS was on the tele with Tracy Martin the 'Antiques and Collectibles' expert but but like children and animals the TARDIS did not perform on the day.  It seems it had stage fright and refused to speak.  The sound is actually light activated and we suspect the battery might have run low because it had been played with a tad too much on set.  We do provide full instructions of how to activate the sound and change the batteries and have never encountered a faulty one yet.
http://www.youtube.com/watch?v=owXqttLyVWY
---
ELEVEN DOCTORS FOB WATCH SET
The latest release, is the awesome Eleven Doctors Fob Watch set. Comprising of 11 coins of 1/2oz 99.9% pure silver, each depicting one of the Doctors with one of his greatest arch-enemies. All of the coins are presented in a large, opening replica of the Doctors famous pocket watch. A space is left for the new twelfth Doctor, Peter Capaldi and a coin featuring him will be available in 2014. Only 3,000 sets will be made, as well as 1,000 of each of the coins that will be offered individually. Availability will be strictly limited, so don't hang about if you want one.
---
THE SINGLE DOCTORS – TAKE ADVANTAGE OF OUR COMBO OFFER
Only 1000 of the coins will be available to purchase as individual items and this is exclusive to the ExCeL event in conjunction with The NZ Mint & Minted UK.  Also available singly here through this site.  Choose your favourite 3 doctors and save £15 with our combo offer.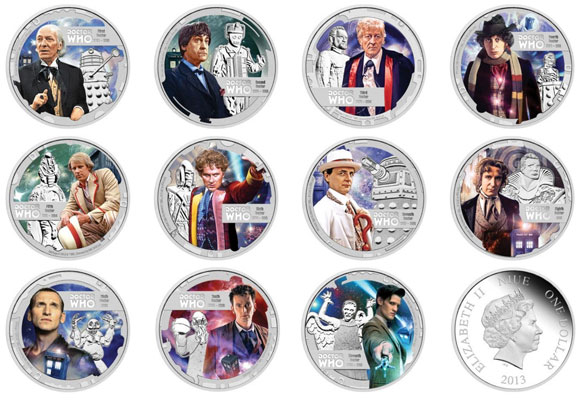 There will undoubtedly be more to come from this partnership, and as Minted-UK are official UK distributors, the price you see is the price you pay. No more international shipping or excessive import duties that add £'s to the cost. So feel free to click the images above and check out the latest prices on these superb world-class collectables.
---